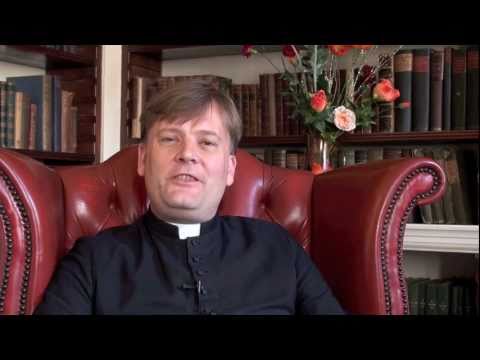 LETTER FROM
THE SEE OF EBBSFLEET
Dear Friends
I write in the wake of Pentecost, and the end of the celebration of the Great Fifty Days of Easter. As the Church returns to Ordinary Time (and the green vestments come out again), it seemed like a good moment to review the landscape in Ebbsfleet and the wider Church, and to do a little looking forward.
I was very pleased with the Chrism Masses in Passiontide and Holy Week. Lay people in their hundreds came to support me and the clergy of the south and west in the magnificent surroundings of Salisbury Cathedral.
This was a truly remarkable occasion and, from the correspondence I have received, clearly provided great encouragement to all who attended. We are most grateful to the Dean and Chapter of Salisbury for such generous hospitality, and it was very good, too, to have the Bishop of Salisbury present and to receive his blessing at the end of the Mass.
In Bristol, it was good to welcome many priests and their people from Wales; at Wednesbury, we saw the highest number of priest concelebrants, and a full church too. The Easter 'stational' masses are intended, in part at least, to provide opportunities for gathering clergy and people together from across the parishes, especially in areas where there is no Chrism Mass in a particular year. While the stational Mass in Derby was well supported, the others were less so; though I was very glad to have celebrated all four of them. Perhaps next year we need to work harder on dates, times and publicity, as well as seeing whether it is possible to concentrate the confirmations in the Easter season around these stational masses. There is certainly no shortage of confirmations candidates; in Wantage, in Birmingham, in Stoke-on-Trent, in Reading, in Salisbury, in Friar Park, the Ebbsfleet Bibles have been flying off the shelves. It is always very gratifying to see the numbers of young adults with a really serious commitment to their faith coming forward for confirmation; and it is a privilege to minister the sacraments too them.
There are just two Ebbsfleet ordinations this year, both, as it happens, in the Diocese of Oxford. Please pray for John Hanks, to be ordained deacon on Saturday, 30th June at 12 Noon, to serve in the parishes of S Barnabas and S Thomas the Martyr, Oxford; and Fr Graham Lunn, to be ordained priest on Sunday, 1st July at 6.00pm, serving at All Saints and S Mark's, Reading. Pray for an increase in vocations to the sacred ministry, and to the religious life: and be encouraged by the news that St Stephen's House, Oxford, is now full for the new academic year beginning in September, having seen a great upturn in ordinand numbers.
The next few weeks will be busy ones for institutions and licensings. Fr Christopher Kinch will be licensed to Holy Nativity, Knowle, on Tuesday, 18th June; Bishop Roger Jupp to S Laurence, Long Eaton & Holy Trinity, Ilkeston, on 19th June; and Fr Andrew Montgomerie to S Margaret of Antioch, Iver Heath, on 12th July. Please remember all these priests and parishes in your prayers.
Too many Ebbsfleet parishes remain vacant: you know this is a constant refrain of mine. Please do understand that every vacancy is a matter of concern, and all receive my attention and efforts to find a way forward. Filling vacancies where a full-time appointment cannot be guaranteed is particularly difficult, and in some instances recently there have, sadly, been no applicants at all for a post. Meanwhile, the clergy do move or retire, creating further vacancies.
Early in the new year, Fr Bill Butt retired as Team Rector of the Staveley team; shortly after Easter, Fr David Prothero retired from S Mary's and S John's, Bathwick; Fr Paul Lockett from S Mary & S Chad, Longton; and Fr David McConkey crossed whatever it is you cross to move from Ebbsfleet to Richborough, leaving the Swindon New Town team, where he had served as Team Rector, for All Saints', Northampton. We are hugely grateful for the ministry exercised by these priests in these major benefices, and wish them all well in retirement and/or future ministry.
In March, it was my sad duty to preside at the Requiem Mass and Funeral for Father John Philips, parish priest of S Francis, Mackworth, in the Derby Diocese. As many of you will know Father John had been ill for some time. It is a huge sadness that the time in this world of so gifted a priest was cut so short. Nevertheless, as with all truly Christian funerals, there was joy and hope as well as grief as Father John was laid to rest. Please pray for the repose of his soul; and for the people of S Francis', and the clergy ministering there at this time.
The summer is the season of special events and major festivals, and I hope to see many of you at the National Pilgrimage at Walsingham on Monday 4th June (where the preacher will be the Bishop of Exeter) and the Glastonbury Pilgrimage on Saturday, 16th June (preacher: the Bishop of Ebbsfleet.) It is particularly important that we support the Glastonbury Pilgrimage as it is re-launched after a fallow year in 2011. Also returning, after a 'gap year' is, of course, the Brean children's festival on Saturday, 9th June. I write in the hope that numbers for this are picking up, there is still time, please send in your booking to the Ebbsfleet office as soon as possible.
You will rightly expect me to say a word about the national picture, and the state of play with the legislation on women bishops. No doubt you will have read various material in the press, from the official Church of England press releases to comments (made with varying degrees of hysteria and inaccuracy) on blogs, websites, twitter feeds and so on. I believe that we took a great step forward at the meeting of the House of Bishops earlier this month, when the legislation was amended to ensure that episcopal care for those who share the view of the great churches of east and west on the sacrament of Holy Order cannot be offered simply by a male bishop, but byone ordained into, and who will himself only ordain into, the historic episcopate as the church as always understood it.
Predictably, but sadly, there has been some noisy opposition to this amendment to the legislation. I have never understood how some proponents of women bishops have been able to support a Measure in which provision is made purely on the basis of gender discrimination ('any man will do,') but object to one in which our theological convictions are recognised and provided for. If this amendment, which goes a long way to address the key question of sacramental assurance, is a helpful one, then we must recognise, on the other hand, that the way in which the Measure deals with issues of jurisdiction still falls a long way short of what we have always said we need. Even here, however, there has been a little progress, in the clear separation, by means of another amendment passed by the House of Bishops in York, of the derivation of a bishop's episcopal ministry from his ordination, and the delegation of permission to exercise that ministry from the diocesan bishop.
All this will make for a tense meeting of the General Synod in July, with any number of outcomes still possible. Whatever happens, all the catholic bishops in the Church of England are committed to being there on the morning after the Synod vote, as your pastors and Fathers-in-God. The last word in this letter must be on a matter around which the whole Church and the whole country can unite – the Queen's Diamond Jubilee. I hope you will all enjoy the celebrations next week, whatever you are doing, and that you will offer a hearty prayer of thanksgiving for the service to the nation and commonwealth, and the witness to the Gospel of Jesus Christ, which The Queen has given us over 60 years. God Save The Queen!
With every blessing
+Jonathan