"A time to be born, and a time to die ... a time to weep and a time to laugh"
words from the Old Testament Book of Ecclesiastes.
Most of us have times in our lives when
- our children are born and we want to give thanks to God
- our relationships need to be strengthened or made permanent before God
- someone significant in our lives is very ill or dies
- we want to celebrate or give thanks
- we are very low and need encouragement
- we want to find meaning or purpose, to change and to know who we really are.
For all these times Saint Francis', your local church, wants to be alongside you, offering help and support.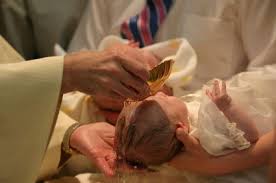 Baptism or Christening marks the beginning of a journey with God which is to continue for the rest of our life, the first step in response to God's love. It is a joyful moment in which we rejoice in being called to be children of God, and at the baptism of a child parents and godparents make for that little one solemn promises and declarations of Christian Faith.
The Baptism Service paints many vivid pictures of the Christian journey. The Sign of the Cross, the badge of the Christian faith, reminds us of Christ's death for us. 'Drowning' in the water of Baptism unites us to Christ's dying and rising. Water is also a sign of life in its fulness which God wishes for us.
As a sign of the new life that is offered, a lighted candle is given to one of the godparents - a picture of the light of Christ which conquers the darkness of evil. All who are baptised are to walk in the light of Christ for the whole of their lives.
Here at Saint Francis' we are glad to offer the Baptism of Children freely. Just come to Church on a Wednesday evening at 7.00pm when bookings are taken. We will see what dates are available for the Christening, and at the same time fix up the date for your child to be blessed in preparation for Baptism (usually at the 9.45am Family Mass on the first Sunday of the month) and when parents and godparents receive a short instruction about the meaning of the Baptism Service and their obligations. Baptism normally takes place at 11.30am on a Sunday, though if another day is more convenient it could take place then.

Saint Francis' is a fantasticplace for your wedding - a glorious building, pleasant grounds, and a church where we try to say 'yes' to making your wedding day just perfect.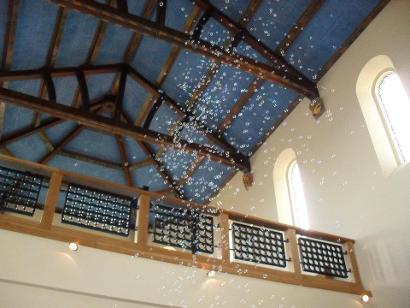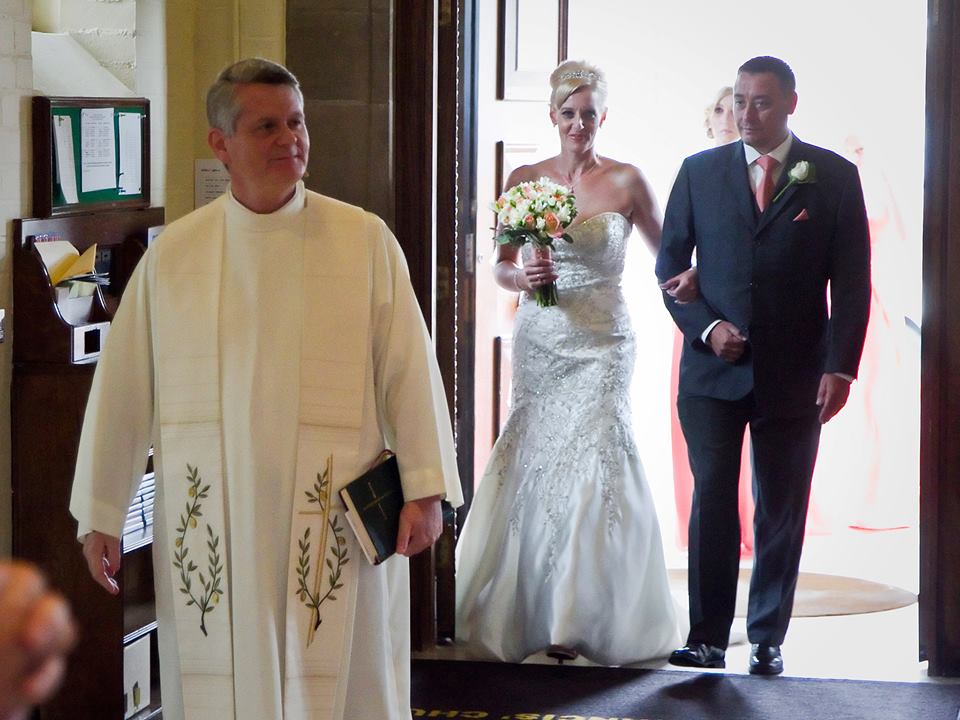 A wedding is one of life's great moments, a time of solemn commitment as well as good wishes, feasting and joy. Bells, bubbles cascading from the gallery, music, the warmth of our welcome, and the traditional structure of the Wedding Service all combine to make your Wedding Day one of the most memorable days of your life together.
Jesus shared in the joy of just such an occasion at Cana of Galilee, where he gave a sign of new beginnings as he changed water into wine. And we are glad to offer our Church here in Friar Park for this day of joy in your lives.
Marriage is intended by God to be a creative relationship, as his blessing enables husband and wife to love and support each other in good times and in bad, and to share in the care and upbringing of children. For the Christian Church, marriage is an invitation to share life together in the spirit of Jesus Christ. It is based upon a solemn, public and life-long covenant between a man and a woman, declared and celebrated in the presence of God and before witnesses.
Anyone who lives within the Parish has a call upon our services. Even if you do not live in the Parish, it may still be possible to marry here if we can establish what is termed a 'qualifying connection' with Saint Francis' Church - perhaps parents or grandparents were married here, or you or your parents once lived in the Parish, or you were baptised here. Even if one or both of you is divorced, it may be possible to marry in Saint Francis', but you must speak with Father to discuss your options, and it would certainly be necessary for you to produce a copy of your Decree Absolute.
We take bookings for Weddings (or for Banns of Marriage in another Parish) on Wednesdays at 7.00pm. Weddings normally take place on Saturdays but, if there is reason, may take place on a Sunday or another day in the week. A £100 non-refundable deposit secures the day and the time for your wedding; the balance is due at the rehearsal that takes place normally in the week before the wedding, but some folk find it helpful to pay off the cost of their wedding over the course of the months between the booking and the actual event.
PLEASE do take a look at the box on the home page of this website about wedding regulations to see what documents you need to bring with you to enable us to book your wedding.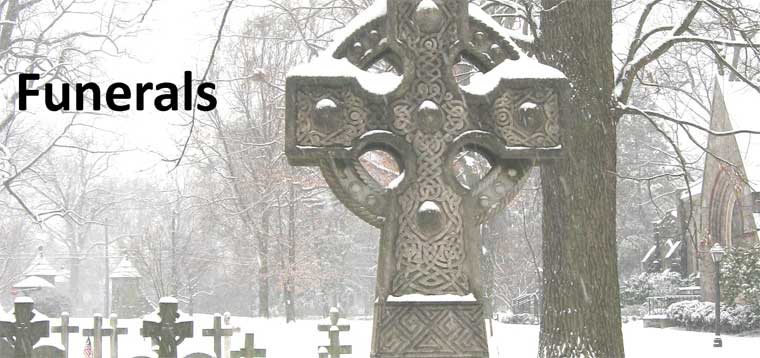 At the heart of the Christian Faith is the simple but earth-shattering assertion that Jesus died, was buried, and on the first Easter Day was raised from the dead. And in joyful hope of that resurrection we entrust our loved ones who have died into the arms of the God who raised the Lord Jesus from the grave. While many funerals take place these days entirely at a Crematorium, it is always possible to have the main service in Church followed by the committal 'at the Crem'. Often the use of church allows greater flexibility (and less constraint of time) than a ceremony elsewhere and here in Saint Francis we are happy for CDs to be played, poetry recited, and tributes given by family or friends.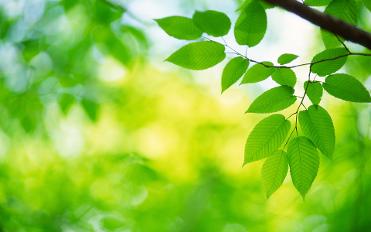 Every life is precious to God. And because of the death and rising to new life of Jesus, Christians have always believed that there is hope in death as in life, and that there is new life in Christ over death.
Your Parish Priest regards it a privilege to conduct the funerals of any who live within the Parish or who have a connection with the Church in Friar Park; do ask the Funeral Director to liaise with Father Ron to ensure a convenient time is chosen to allow him to take the Funeral of your Loved One, whether at the Crem or in Church.
On the Sunday after the Funeral Service the name of your Loved One will be spoken among the Prayers for the Dead at the 9.45am Parish Mass, and many families find it helpful to come to Church to hear that much-loved name and light a candle in their memory. And every few months we hold a Memorial Service to honour the memory of those whose funerals have been taken by Priests associated with Saint Francis, and to offer comfort and consolation to the bereaved. You would be very welcome; you will find the next date for a Memorial Service if you press the tab 'The Latest Stuff' at the top of this page.
Saint Francis', the Church of England at the heart of Friar Park, wants to care for you.